PermataBank Hadirkan Layanan "Trade Finance" dengan Teknologi Blockchain
Trade finance merupakan fasilitas pembiayaan untuk transaksi perdagangan domestik maupun internasional
Corry Anestia - 23 July 2021
PT Bank Permata Tbk (PermataBank) resmi menghadirkan layanan pembiayaan perdagangan atau trade finance dengan teknologi blockchain. Menurut klaimnya, PermataBank menjadi bank pertama yang melayani transaksi trade finance dengan teknologi blockchain di Indonesia.
Untuk menghadirkan blockchain, PermataBank bekerja sama dengan Contour Network yang merupakan perusahaan penyedia jaringan teknologi untuk trade finance di global. Di Asia Tenggara, sejumlah bank yang menggunakan teknologi Contour antara lain HSBC, Standard Chartered Bank, dan Bangkok Bank.
Trade finance merupakan fasilitas pembiayaan untuk transaksi perdagangan domestik maupun internasional. Pemanfaatan blockchain memungkinkan transaksi data dilakukan secara terdesentralisasi secara real-time dengan konsep distributed ledger.
Direktur Wholesale Banking PermataBank Darwin Wibowo mengatakan, adopsi blockchain merupakan langkah PermataBank untuk menjawab kebutuhan nasabah melalui digitalisasi berbagai layanannya dan menavigasi sistem pembayaran nasional dengan teknologi.
Tak kalah penting, selama ini ia menilai transaksi trade finance kerap dilakukan secara konvensional sehingga kurang efisien dan membutuhkan waktu lama. Prosesnya semakin rumit ketika pandemi Covid-19 terjadi. Pembatasan sosial dan aktivitas berdampak terhadap terhambatnya prosedur transaksi.
Menurutnya, implementasi blockchain akan mempermudah transaksi perdagangan global hingga kebutuhan penerbitan letter of credit (L/C). Dengan keunggulan yang dimilikinya, blockchain dianggap mampu menghemat waktu transaksi, meminimalisasi risiko penipuan, dan menyederhanakan proses kompleks yang selama ini menjadi tantangan besar dalam transaksi trade finance.
"Tak cuma itu, teknologi blockchain akan memperluas jangkauan layanan PermataBank. Nasabah trade finance juga dapat bertransaksi tanpa harus datang ke kantor cabang PermataBank," ungkap Darwin.
Sementara itu, CEO Contour Carl Wegner menambahkan, perdagangan global berperan penting terhadap perekonomian Indonesia. Akan tetapi, transaksi trade finance yang selama ini dilakukan secara manual menghambat pertumbuhan perdagangan. Maka itu, keterlibatan Contour dalam fasilitas trade finance di PermataBank diharapkan dapat membuka akses ke komunitas di seluruh dunia.
Teknologi transformatif untuk perdagangan
Berdasarkan laporan 2020 Global Trade Survey yang dirilis International Chamber of Commerce, kegiatan perdagangan dan pembiayaan perdagangan (trade finance) di dunia tengah di ambang ketidakpastian akibat Covid-19.
Berdasarkan hasil survei terhadap 346 bank dari 85 negara di dunia, responden mengungkapkan kekhawatirannya akan penurunan pertumbuhan transaksi trade finance. Kendati demikian, responden justru menilai kegiatan lockdown dan WFH justru mempercepat transisi perdagangan ke platform digital, yang mana salah satunya melalui teknologi blockchain.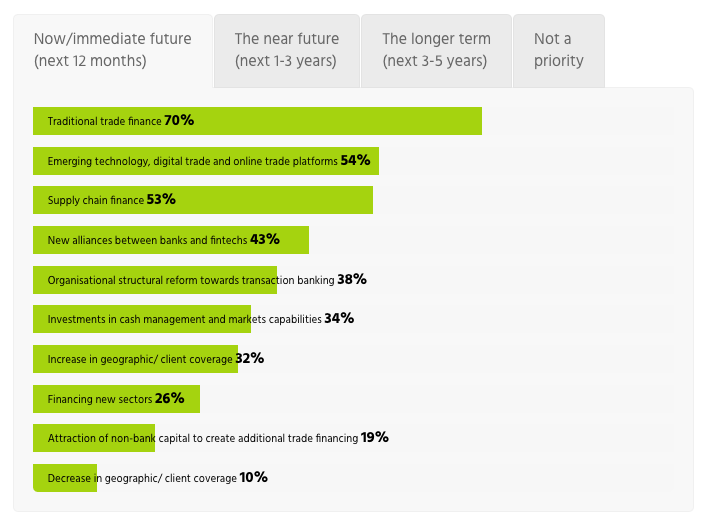 Sebanyak 54% responden mengaku teknologi transformatif menjadi area prioritas pengembangan dan fokus strategis mereka dalam jangka pendek karena mereka ingin mengamankan pertumbuhan di masa depan. Menurut responden, teknologi digital dapat memacu peluang transformasi lebih besar di industri keuangan global yang selama ini masih identik dengan proses manual berbasis kertas.
Dalam tulisannya, Head of Trade and Supply Chain R3 Alisa DiCaprio menyebutkan bahwa kegiatan trade finance termasuk yang paling sulit untuk dimodernisasi. Pasalnya, proses transaksinya selama ini masih melibatkan banyak proses manual berbasis kertas yang dinilai tidak cocok lagi di era digital. Berdasarkan data Asian Development Bank (ADB), hampir $1,5 triliun pengajuan pembiayaan perdagangan ditolak karena inefisiensi.
Ia menilai blockchain memiliki hasil nyata dalam mengurangi biaya, risiko, dan potensi penundaan bagi pihak yang terlibat dalam transaksi pembiayaan perdagangan. Jika diimplementasi secara efektif, blockchain dapat berpotensi membuka peluang $1,5 triliun dalam pembiayaan perdagangan global.
Application Information Will Show Up Here